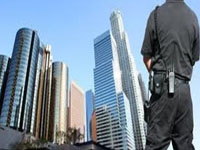 Security Services
Fluid undertake to unload you of the burden and worries connected with all security aspects of your institution by effective and reliable security services
through our trained personnel, who possesses sound professional knowledge, in vigilance, patrolling, gate controls searches, investigations and prevention of crimes without keeping any loopholes and leave you free to devote the time and energy and more concentrate in your enterprise.


Our Services :
Full range of security services from access control & fire safety to parking management & first aid.
Industry leading training programs with state-of-the-art technology.
Security officers who perform at the highest level.
Extensive management support system ensuring prompt attention and response.
Human Resource processes that emphasize on screening, background checks & track records.

For more information about this service, please contact our office directly by phone or contact us