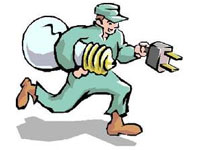 Fluid specialize in Electro-mechanical services to commercial establishments & corporate. Each AtoZ personnel remain in attire so that they are easily recognized by the clients. Inside and out, top to bottom, our maintenance staff and technicians consistently on job to ensure performance of maintenance equipments& gadgets. Our flexible workforce understands the demands of your business, allowing preparing for any emergency situations, special events, expansions, etc. 
Fluid provide the following related services:
Breakdown Maintenance
Co-ordination with service / equipment provider for AMC.
Preventive / Predictive Maintenance
24/7 Support from our maintenance team
Commercial Operations & Maintenance of all installations, gadgets & equipments
Implementation of EHS policy (Environment, Health & Safety Policy) at workplace

Electrician Services For Corporate
We offer electrician services which includes maintenance of power panels, maintenance of light fixture & power points and detection & rectification services. We have experienced electricians, who have the required expertise in offering relevant services. Further, they take care that the services are performed as per the requirements of our clients.
For more information about this service, please contact our office directly by phone or contact us